Gone are the days when transitioning from one IT company to another would be a tiring, timely project! Thanks to digital transformation, making a smooth, effortless transition can be achieved without the headache.
Yet, keeping up with the required support of your company's growing technology can be daunting when going it alone. Dealing with factors such as the latest cyber security threats, updating outdated systems, and storing client or employee data safely takes a specific kind of skillset and knowledge.
In this article, we will show you how to switch to a new managed service provider with as little disruption as possible.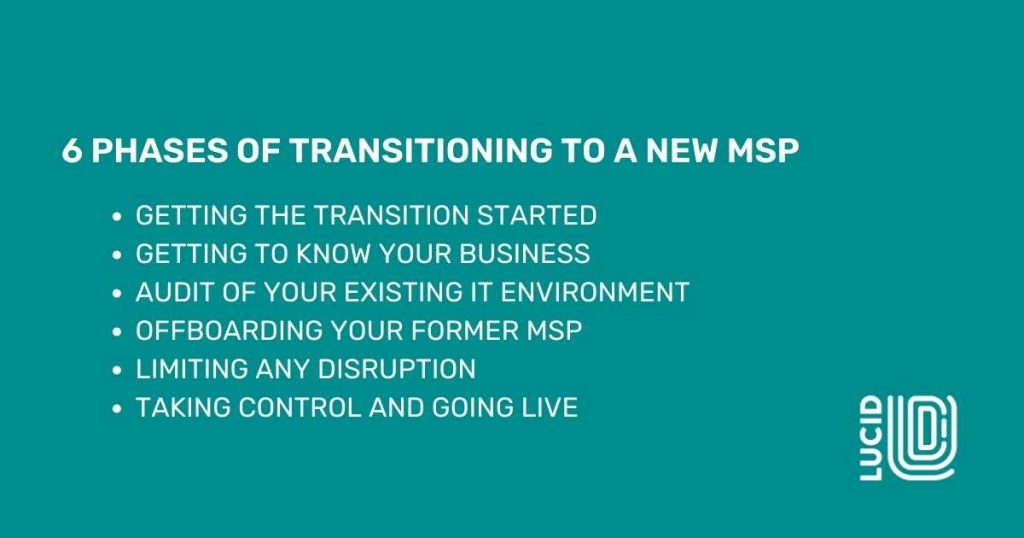 Wakefield Research for Cisco subsidiary AppDynamics surveyed 1000 Australian IT professionals and found that the average revenue loss during business-critical outages was $144,062.52 per hour for larger organisations and more than $2000 per hour for smaller companies. Something that many businesses cannot endure and could potentially mitigate with the right managed service provider.
Whether you are running the show yourself or considering switching providers, keep in your mind the benefits of working with a managed service provider in the first place. This transition is the start of a new business relationship and when done right, it can empower your business through logistical benefits, saving costs, and offering security.
Making the switch is easier than you may think!
With 83% of SMBs lacking the Funds to Deal with the Repercussions of a Cyber Attack, there is no better time to get the extra help through an MSP.
If you are a company considering making the transition, here is what that process may look like:
Getting started.
Here, you can assign any one individual or a specific team that can manage and oversee your transition. This will ensure you have a dedicated point of contact with your new MSP and that all avenues of communication are intact.
Your appointed transition person will be the one that assists your company's transition and work alongside IT management to help mitigate any risks and identify and resolve issues that may affect the handover. During this stage, they will keep an eye on the timeline in keeping things up to date and on track.
Getting to know your business.
As the switch happens, the first step is to get to know the ins and outs of your business. By understanding what has been working for you with your previous service provider, and where any challenges stem from, they will be able to start to formulate a plan moving forward. This is the stage where a foundation is laid with getting to know one another and how you will come to working together once your business has been onboarded.
Audit your existing IT network.
Most companies are unaware of the true state of their IT. With your audit, your new MSP will book a time to visit your business location to evaluate your existing IT infrastructure. You can expect them to talk to team members, evaluate your systems and hardware, software, and processes to gauge how your environment looks and runs.
During this stage, the MSP will look for what is currently working as well as what could be improved. To help support the audit process, try providing any documentation on any services that your previous provider put into operation. (You may find this information on an invoice or in the original contract.)
Offboarding your former MSP.
Before transitioning from one MSP to another, make sure you check your notice period or any clauses that there may be. From there, you can line up the transition handover to occur at the right time. The key to this stage is clear communication with your old MSP and your new MSP, as well as with any of your staff or team this transition may impact.

Take note to receive all the administrative credentials and information needed for the transition stage. You may find that it is during the offboarding stage, that the old MSP may need to attend your site to remove hardware and software they own so the new MSP can put in their hardware and software as required.
Limiting Disruption.
The main aim following offboarding your former MSP, is to minimize risk and disruption during the move across. Your former and new provider should be working together to coordinate offboarding and onboarding times to minimise impact on your organisation's operations and security coverage. 
Taking Control and Going Live.
Now that your former MSP has been offboarded, the focus is on building a solid foundation with your new service provider. You may see they will then update your network, implement any recommended changes, and update any processes from your audit.
There will be a backup of any IT equipment in the off chance there are any issues during this stage. To finish the onboarding process, your new MSP will change computer names, patch, or update tool sets, and ensure everything is up to date.
It is important to understand the first 30 days with your new provider will be the most challenging, yet with clear communication and the right support, you will get through it together.

Understanding how life looks with your new MSP in the lead-up to the transition can help relieve stress and concern as things happen.
Give yourself permission to switch MSPs.
It is natural to have mixed emotions when it comes to choosing to transition service providers. You may need more than what your current MSP provides, or they may not be living up to your expectations, either way, you have every right to transition.
Try not to be apprehensive about switching to a new provider as the steps will be managed by your new provider and handed over with ease. Once your company is fully onboarded, you will start enjoying the benefits of managed services and your business should benefit from doing so.
To help guide you through the switching and onboarding process, feel free to get in touch with us as we can answer any questions you may have.